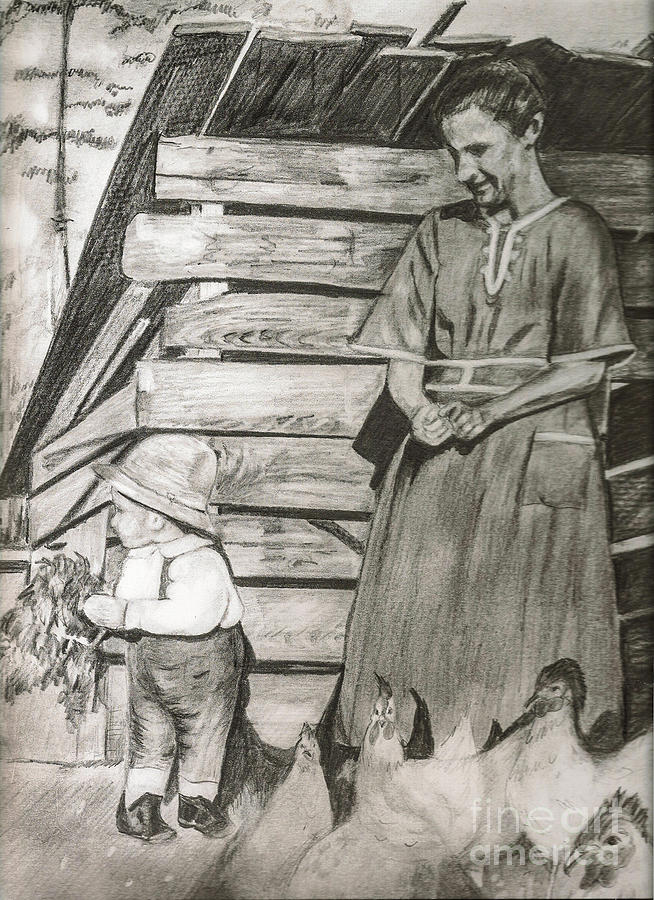 Dimensions
14.000 x 11.000 inches
This piece has been already sold. Please feel free to contact the artist directly regarding this or other pieces.
Click here to contact the artist.
Title
Chicken Coop - Woman and son - feeding chickens
Medium
Drawing - Graphite Drawing
Description
Annie Lee and Nathan feeding the Chickens
Jan Dappen/Artist

This is an graphite pencil drawing on Bristol Strathmore Acid free, heavy weight 11 X 14 paper. This is my Great Grandmother, Annie Lee and her son feeding the Chickens in Elba, AL The original picture from which I used as a reference to draw from was a small 2 X 3 probably taken in 1922. My "Ma" was half Creek Indian and she raised my mother for part of the time because my grandmother died when my mother was two. Ma was a hardworking, smart, courageous woman that cooked some of the best food I every put in my mouth. My memories include climbing down the long steep back stairs to the chicken yard, where I would gather eggs, and help Ma prepare the chickens to cook, yes wring their necks and scald those birds and pluck the feathers. She then would either fry them or put them in a big pot with dumplings. She always made Apple Pie with a laced top that would put the best pies today to shame. At night, she would allow me to take her long dark hair down and brush it, crawl into that big bed with her and scare me with spooky stories.
Uploaded
February 2nd, 2014
Statistics
Viewed 7,662 Times - Last Visitor from Seattle, WA on 11/30/2023 at 1:23 PM