About Jan Dappen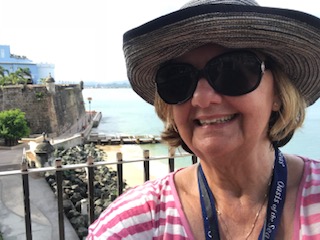 I am proud and honored to announce that as of May 13, 2019, there are six pieces of my artwork (3 original and 3 Giclee Canvas prints) hanging on the walls of the State Capitol Building in Atlanta, Ga in the offices of the Speaker of the House through 2021. I am Blessed and filled with Gratitude.

Even thought the past year 2020 was challenging because of Covid, I was fortunate to be able to use all my new-founded free time to paint. In 2020 I took home a few more awards that I'm pleased to announce. SUNRISE AT MISTY LAKE Honorary Mention at Gilmer Arts Juried Exhibition; WILLARD'S PATH - tied First Runner-up -QuickDraw Competition Plein Air In the Mountains; REFLECTIONS AT LAKE LOUISE- Best in Show for Fusion Arts INTERNATIONAL JURIED WATERSCAPE COMPETITION .

I am an Artist, I have been an Artist for as long as I can remember. There has always been a need within me to pick up a pencil or a paint brush and put what I see, what attacks my senses and heart, and recreate it on paper or canvas. Although my style is different and recognizable, realistic results that will preserve the subject through time is most important to me. Finding an old, neglected, weathered barn or homestead and recreating it into a piece of art that sparks your interest in the story behind the subject inspires me to paint. Seeing the laughter and tears of a young child inspires me to capture the moment. It is the natural, the untouched, the beauty of nature and the world that surrounds me that takes my breath away and leads me to the easel. Perhaps my life experiences have led me to seize the imperfect as well as the perfect moments. Born and raised in the South and settled here in the Southern portion of the Appalachian Mountains, most of my compositions reflect the culture and history of the South and North Georgia mountains. My goal is to share what my eyes see, what my heart feels, and to provide a pleasure or memory. There is a desire to embrace the natural talent God has given me and share with others. My hope is to provide that place where we come together and better understand the previous generations and the history of where we come from.
I am originally from Columbus, Georgia where I met my husband at nearby Fort Benning, Georgia. My husband was Career Army and we were stationed in Frankfurt and Stuttgart, Germany for eleven years. My time was spent mothering three small children, supporting my military husband, volunteering for the military community, substitute teaching for DODDS, traveling throughout Europe and painting in water colors and drawing when I could find a moment alone . It was a great honor to have my artwork shown in Frankfurt for the Military/German community in 1980. Living in Europe allowed me to experience awesome artwork in the museums and churches, great ideas for future canvases and walks down cobblestone streets and through the vineyards soaking up the history.

In 1992, My husband retired and began a second career as an airline pilot and we settled down in the Greater Atlanta area, where I returned to School and graduated from Kennesaw State University in 2000. Community volunteering, supply teaching in a local high school and welcoming six new grandchildren into our hearts filled the next 20 years of our lives. My husband and I accomplished our life-long dream building a log home in the scenic North Georgia Mountains and since both retiring, we have made this our permanent address.

In March of 2016, I was commissioned to paint a large 9' x 11' Mural (oil) in the cellar at a local winery in Talking Rock, GA. The mural can be seen at the Chateau Meichtry Vineyard. I also hand painted the Signage at Chateau. Together with Terri Waters Photography (FAA), we have designed the wine labels and logo for Ott Farms and Vineyards in Ellijay.

You may also see some of my Original Oil paintings and prints that are hanging at the following Venues:
Cartecay Vineyards in Ellijay, GA.
Ott Farm and Vineyards, Ellijay, GA
Chateau Meichtry, Talking Rock, GA
Cartecay Wine and Craft, Ellijay, GA
Mountain Treasures on Main,Ellijay, GA
River Street Tavern, Ellijay, GA
Gilmer Art in Ellijay, GA
The Appalachia Cafe in Ellijay
JZs Taste of Georgia in Cartersville, GA
NGAF Art Gallery in Blue Ridge, GA
...and as of May 13, 2019, there are six pieces of my artwork (3 original and 3 Giclee Canvas prints) hanging on the walls of the State Capitol Building in Atlanta, Ga in the offices of the Speaker of the House through 2021. .
Please stop by and see my art.

You can also find a link to my Facebook page, Twitter, and Instagram at the top right of this page, Just click and connect.

Contact me at [email protected] I take PayPal, Personal Checks and of course cash if applicable. If you are interested in Originals, you may Check out my Gallery named Originals Available or look on each image to check and see if original is available.



ATTENTION to those visiting my Gallery, I am offering a 50 % discount on all prints, canvas prints and greeting cards as a thank you thru FAA. The discount only applies to the Artist markup, not the cost of FAA. Use code UBYLSL


Watermarks do not appear on prints.

Copyright Notice: All images on this web site are protected by the U.S. and international copyright laws, all rights reserved. The images may not be copied, reproduced, manipulated or used in any way, without written permission of Jan Dappen, Artist. Any unauthorized usage will be prosecuted to the full extent of U.S. Copyright Law.